The European Union and its partners are hosting an international pledging marathon starting on Monday 4 May 2020 and running until the end of May 2020. The aim is to gather significant funding to ensure the collaborative development and universal deployment of diagnostics, treatments and vaccines against coronavirus.
What do we achieve together within one day only?
On the 4th of May, the Commission managed to gather €7.4 billion, equivalent to $8 billion, in pledges from donors worldwide during the Coronavirus Global Response pledging event. Leaders, philanthropists, and influential people from all over the world sent their positive messages and contributions motivating other governments and associations to follow the same path.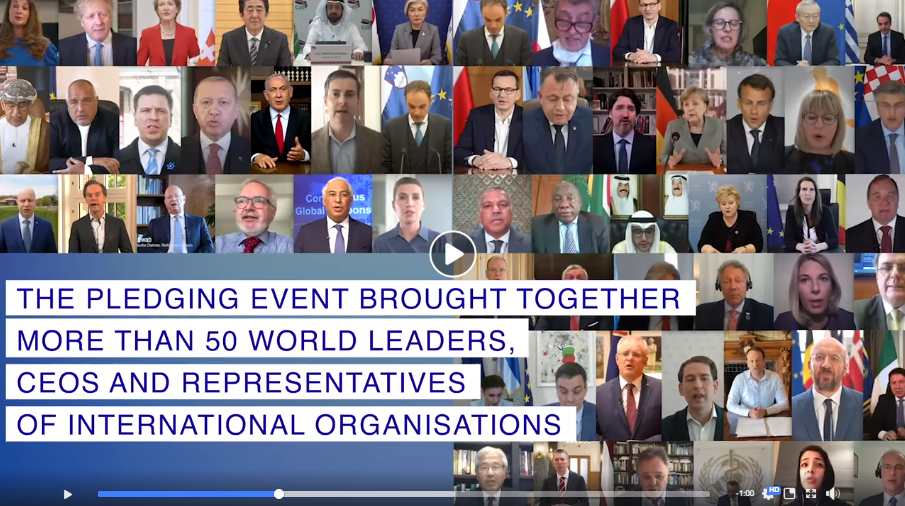 During the marathon, President of the European Commission, Ursula von der Leyen, said:
"Today the world showed extraordinary unity for the common good. Governments and global health organisations joined forces against coronavirus. With such commitment, we are on track for developing, producing and deploying a vaccine for all. However, this is only the beginning. We need to sustain the effort and to stand ready to contribute more. The pledging marathon will continue. After governments, civil society and people worldwide need to join in, in a global mobilisation of hope and resolve."
EU-funded calls for proposals and subsequent projects under Horizon 2020 will be aligned with the objectives of the three partnerships and subject to open access to data.
The effort continues with the initial goal to raise €7.5 billion. Donors are welcomed to continue pledging to the Coronavirus Global Response. They can choose which priority to donate to – Test, Treat or Prevent.
The European Commission has created a comprehensive factsheet with all the related information.
The EU: first runner in research and innovation
The European Commission has been at the forefront of supporting research and innovation and coordinating European and global research efforts, including preparedness for pandemics.
We are all potentially vulnerable without a globally coordinated preparedness and recovery plan.
With Europe being the centre of coronavirus outbreak, the Commission will be implementing several actions in different research and innovation areas to tackle this pandemic.
Preparedness and response

Diagnostics

Treatments

Vaccines

Equipment

Socio-economic

and behavioural aspects

Infrastructures and resources

Global cooperation

Financial support

Data and datasets
How can you help?
There is still time! Spread the word and raise awareness about the need for fair and equal access to diagnostics, treatments and vaccines against the coronavirus.
The Commission launched a communication kit and invites you to join the coronavirus global response initiative.
Let's help people and protect lives!