Monday 14 December 2020 12:00 – 15:00 CET online
Our project The H2020 BuildERS (Building European Communities' Resilience and Social Capital) is at the halfway point and we are eager to reveal current findings.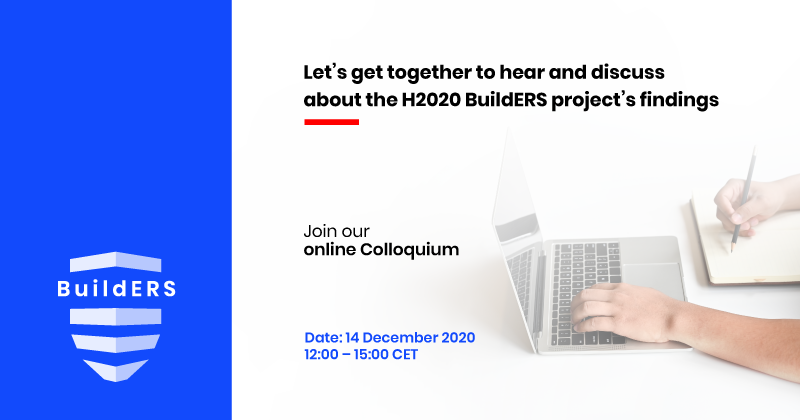 In the times of increasingly complex crises and disasters our main goal is to bring local, national and international governance levels together for co-creation of more effective resilience building and policy recommendations for supporting vulnerable groups. We study challenges related to risk awareness and social trust. We contribute to a better understanding of national institutional settings and capacities to face crises and disasters; assesses tools, processes and methods to enhance resilience, social capital and coping skills also via technological innovations.
Our BuildERS team includes researchers and NGOs preventatives of various disciplines, backgrounds and competences from ten countries. Find more about us: https://buildersproject.eu/
The participation is free of charge and is held via Gotomeeting. We can take not more than 250 participants.
Agenda for the meeting:
Welcoming words and introduction by Project Coordinator Anna-Mari Heikkilä, VTT Technical Research Centre of Finland
Social media for emergency alerting and during a crisis Asta Bäck, (VTT – Finland) - presents case studies of how emergency warmings are being shared in social media as well as the use of social media during a crisis

A view to technological opportunities for improving resilience in disasters Juhani Latvakoski (VTT – Finland) - offers findings from the survey of technologies and tools and discuss technical opportunities for improving operation in disaster life-cycle phases.

Satellite images and hazard vulnerability Eija Parmes (VTT – Finland) ) - introduces the principles of systematically updated satellite imagery to monitor, forecast and get real time status of the hazards on earth.

Presentation 4 Sten Hansson, University of Tartu – Estonia: Covid-19 related harmful information - short text.

Presentation 5 by Kati Orru, University of Tartu – Estonia: Covid-19 response by social care organisations - short text.
Wrapping up and conclusion
Practicalities:
Each presentation will last 20 minutes and will be follow by a question from the moderator. The moderator will give then the floor to the audience. We advise you to use the chat tool either to signalise that you would like to raise questions/comments or to write directly your questions/comments. Welcome!
General instructions about Gotomeeting: https://support.goto.com/meeting/attendee-user-guide