As opposed to the static picture painted by census records or surveys, MPD shows where people actually move, which is a great benefit considering that people are mobile. The unique value of MPD in disaster situations is that the data can be collected passively and with regular intervals without one-on-one interaction. MPD also allows looking back in time to analyse typical behaviour, such as during previous disaster scenarios.
The benefits of using this innovative data source are manifold. MPD can show regular mobility patterns and the de facto population, which is beneficial when electricity or connectivity is compromised and real-time information cannot be gathered. MPD can also show mobility in and out of the crisis area. What is more, with MPD it is possible to differentiate between work and home locations, as well as locations of secondary homes, which can assist in temporary shelter planning before and during a crisis. Lastly, MPD can help monitor whether special restrictions placed by authorities have been effective or should be adjusted.
In the project, we test the usability of MPD in different disaster scenarios in Estonia (WP4.3) and Indonesia (WP4.7). The aim of the case studies is to aid in building resilience by improving planning and response processes.
Estonian case study
Due to its geographical location, Estonia is not prone to many natural disasters; still, seasonal storms and blizzards can cause problems here, too. However, the Global Risk Report (2016), which includes input from 750 security and defense experts from around the world, emphasized that there is a high risk of cyber terrorism against Estonia in the near future. Such terrorism could impose damaging consequences on the country's population and economy. In addition, the risk of damage is increased considering that cyber-attacks could also be enacted during natural hazards (weather extremes, fires, floods) for disguise. How to reach people in need when all systems are down?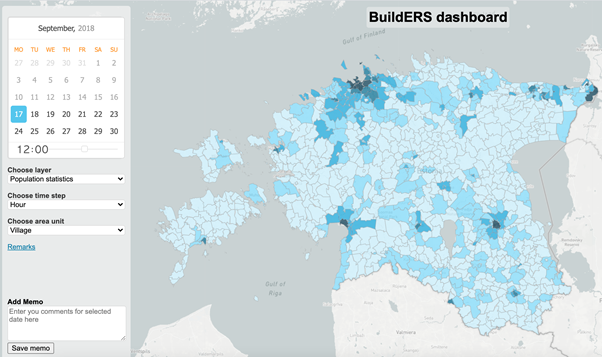 A snapshot of the MPD dashboard built for WP4.3
In collaboration with the Estonian Rescue Board and the University of Tartu, Positium built a dashboard for more accurate risk assessments of areas and buildings and for predicting evacuation needs prior to crises, for better resource planning as well as for forecasting movement behaviour during crises. The parameters of the dashboard were established during a joint workshop between the Estonian Rescue Board, Police and Border Guard Board, Defense Forces, first aid staff and the Health Board, and municipal officials to make sure that the final solution meets the needs of the end users.

Example from the WP4.3 dashboard showing hourly, daily and weekly population count changes in an area.
Indonesian case study
In Indonesia, the sudden onset of natural or man-made disasters puts visitors and tourists at a particularly high risk. Earthquakes, tsunamis, tornadoes, floods and volcanic eruptions are common phenomena on the country's many islands. In such scenarios, locating people who have no understanding of local circumstances must be done swiftly and determinedly to protect them and avoid public chaos.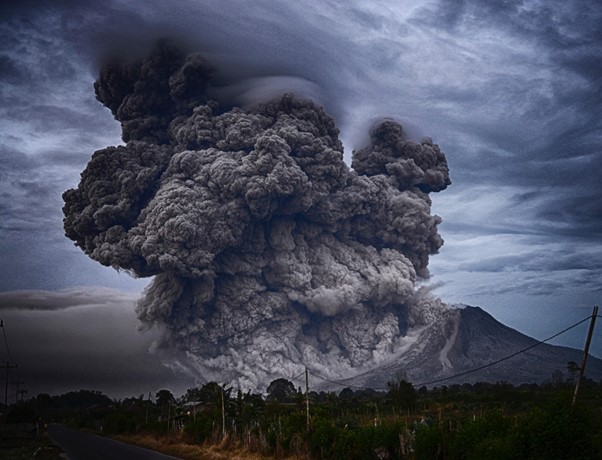 Eruption of Mt Sinabung on Indonesia's Sumatra island in August 2020. Photo: Yosh Ginsu on Unsplash
The unique value of MPD in this case is that the data can show mobility out of the crisis area, which helps to assess whether the information from authorities reaches vulnerable groups well (considering a time frame of near real-time to 24 hrs). If not a significant number of people are moving away from the area, it could show that the necessary information does not reach vulnerable groups in time.
Positium together with the University of Indonesia is building a dashboard using MPD to locate tourists in disaster-struck areas. To make sure it meets the needs of rescue services, workshops will be conducted with the end-users (the National Disaster Management Agency (BNPB), the Indonesian Red Cross, and municipal officials) to validate the dashboard's usefulness and effectiveness in hazard conditions.
Author: Johanna Raudsepp (Positium)